Overview
The purpose of the current section is to provide information regarding the MERCHANT integration with the Upclick platform. With the multitude of features and options that the platform has, the current documents are intended to be a real guide that will accompany the merchants during their product integration with Upclick, exposing also details and options for a continuous future optimization. The current documents do not describe the features and screens in all their details here, but give an overview of the functionalities and their relationship.
The Upclick platform is in general very flexible. Upclick gives choices for users with different level of experience and offers integration with e-commerce. Starting with a basic integration for the small merchants, the platform is able to manage and give high-standard solutions for advanced optimizers, including traffic, pricing, billing and content optimization. The Upclick infrastructure is built to support any kind of traffic volume and complexity. As an Upclick merchant, the more you use the system, the more you understand, improve your skills and apply new options to your traffic.
In a Nutshell, after the account registration, the first merchant objective is to configure the products and generate the related checkout links.
Following are the possibilities of evolution of your Upclick skills for merchant accounts: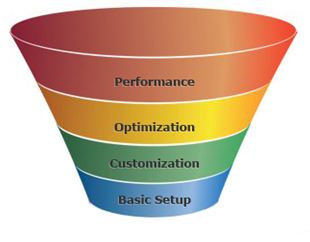 Basic Setup:
- Define your product in few easy steps and get your checkout link operational in a few minutes by using a pre-defined checkout template;
Customization:
- Create custom checkout designs, including customization for other related content (purchase email confirmation, terms and policies, etc.);
- Implement your customized Tracking Campaigns;
Optimization:
- Create Pricing Models including Cross-sells;
- Define Post-sells and Up-sells Offers;
- Promote Upclick's Network Cross-sell offers and publish your offers to the Upclick Network;
- Create Multi-Language checkout designs;
- Integrate Upclick APIs for product and notification services;
Increase Performance:
- Promote your products through Upclick affiliates or your own branded Affiliate System;
- Promotions, Volume discount and Coupons;
- Use the Other Upclick advanced features and services (Branded Checkouts, Email Marketing, Volume Discount, Custom Billing Coverage, Recurring Products, UserManagement, etc);
- Custom Automatic Reports and Metrics (conversions, customer service, alerts, etc);
Upclick also offers advanced solutions for Customer Service and Technical Support. For any kind of custom integration and technical support don't hesitate to contact us.
Upclick's qualified personnel have great experience. We can help you achieve custom integrations and optimizations for any particular case and even configure it for you. In the meantime see how easy it is to just get started.